Description
Details
Introducing Easy Cut Studio
The complete solution for designing, printing, cutting and print+cut. It gives you the ability to cut any TrueType font, OpenType font, graphics, SVG, PDF, as well as your own original designs with your cutting plotter. This awesome vinyl cutting software even supports vectorize your images and built-in shape library includes hundreds of vectorial designs ready for cutting. With intuitive user interface, Now anyone can cut designs like a pro! Professional sign cutting software for your vinyl cutter. Both Windows and Mac versions available now.
Draw your own designs
Drawing and Designing couldn't get any easier! This powerful vinyl cutter software comes with a suite of various shape drawing and editing tools to draw and edit any shape directly on the mat. Easily draw unique shapes, modify signs, edit images, create logos, customize text with fonts on your computer plus special effects. Easy Cut Studio will make you design and cut your shapes easier than with any other sign-making software in the market today. It is a little design powerhouse for vinyl cutting.
Image Tracing & Vectorizing
Unmatched image vectorization, Simply use the powerful tracing tool to create cuttable outlines from any imported raster graphics (including PNG, JPG, GIF, PSD, PDF, BMP, TGA, TIFF, etc.) or scanned images. Easily create accurate vector paths ready for cutting or make further editing.
Import/Export most file formats
Import various file formats, including SVG, AI, PDF, PNG, EPS, GSD, WPC and other popular vector formats as editable objects. giving you the power to cut any shape and custom artworks. You can also export your design to SVG, PNG, TIFF, GIF, JPG, BMP, or FCM format.
Print and Cut (Contour Cut)
Print to Cut made easy, fast and accurate. Automatic creation of registration marks for print and cut applications. Easily print your artwork and then cut out around the printed image using your vinyl cutter, which is perfect for create decals and stickers. User control over registration size, thickness and offset will help the cutter find the contour cut marks easily.
Weld Text and Shapes Together
Welding is an advanced option allows you to make overlapping text and shapes to become a single shape, by joining shapes together wherever an overlap occurs. There are two ways to combine shapes/letters together: welding and joining.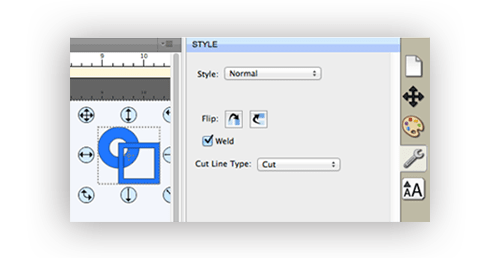 SVG to FCM Converter
SVG to FCM Batch conversion workflow is unmatched by any vinyl cutter software on the market. Easy Cut Studio will allow you to spend less time converting SVG to brother ScanNCut FCM file and more time cutting and playing with paper.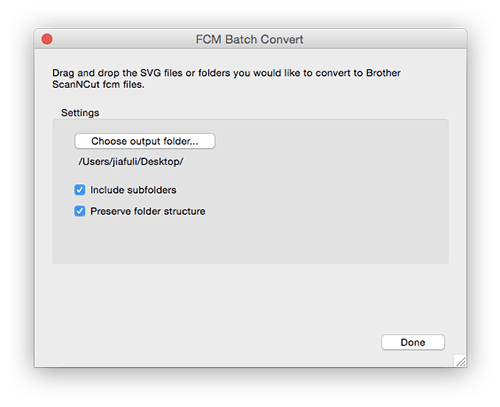 Design and Cut Rhinestone Templates
Easily convert designs into rhinestone templates and make your own custom rhinestone designs with typeable rhinestone ready fonts. Specify stone size and spacing to make a rhinestone template and lattice shapes. Just select an object on the screen mat, and then choose "Rhinestones" from under the "Effects" menu to bring up the Rhinestone window shown below.
Working With Layers
Easily create complex designs using multiple layers, grouping to organize the display order of objects. Using Layers can help you more control over how you organize, edit and cut objects with Easy Cut Studio. The Shadow Layer option will create cuttable shadows from any shape.
Full control over your vinyl cutter
Get the job done, faster. Flexible cut settings that allows you to cut exactly what you want. You can set cut mode, mirroring, pressure & speed, cut selection only, Print+Cut, multi-cut (Cut Copies), overcut and many more professional vinyl cutter controls. Cut vinyl signs with incredible ease.
Supported Vinyl Cutters and Plotters
Works with a wide range of vinyl cutters/plotters including USCutter, Graphtec, GCC, Roland, Secabo, Summa, AnaGraph, PCut, Ioline, Refine, Mutoh, SilverBullet, Liyu, Redsail, GoldCut, PixMax, KingCut, JinKa, Vicsign, Seiki, SkyCut, UKCutter, Rabbit, Saga, KNK, Silhouette SD/CAMEO/Curio/Portrait, CraftRobo, Craftwell eCraft, i-Craft, BossKut Gazelle, Pazzles Inspiration/Pro/Vue, Master Vinyl Cutter, Vinyl Express machines and so on. (No longer work with the Cricut machines.). Click here to view all compatible vinyl cutters.
More features
Text on arch tool and text on path tool.
Place text or objects on bezier paths.
Convert text to outlines/paths.
Node editing tool.
Layout and special effects for your text and shapes.
Cut font files already installed on your Mac or Windows.
Create shadowed mat effects.
Registration marks.
Stencil function for bridging interior shapes.
Use any bitmap image to create a texture.
WYSIWYC Interface - What you see is what you cut.
Scan images directly into the software.
Choose from over 250 pre-made shapes from the built-in library.
Multi-color gradient fill function with linear and radial options.
Option to cut only selected objects.
Mirror or flip images before cutting.
Support USB connection, serial (COM), parallel and so on.
Generate jigsaw puzzles with full control.
Additional Info
Reviews
Tags